A seemingly common problem with EVO oil pans is stripped out drain plugs. I had the opportunity to deal with this exact problem. Of course I took pictures and documented the whole fix, including some custom modifications.
I went to a local auto parts store and looked through their "fix it" section. I found 3 items that could work and not knowing which one would work better, I bought all 3.
On the left is a 1/2"-20 Double oversize plug
Middle is a 1/2"-20 "Piggyback Single Oversized" Plug
On the right is a 1/2"-20 Single oversized solid tapered plug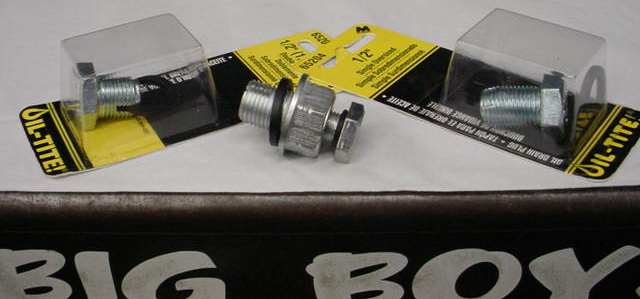 This is the Piggyback plug that we decided to use since it allows the oil to be drained without a pump. You can see the o-ring on the new drain plug. Note that there is no relief in the "seat" for the o-ring. This clearly isn't going to work.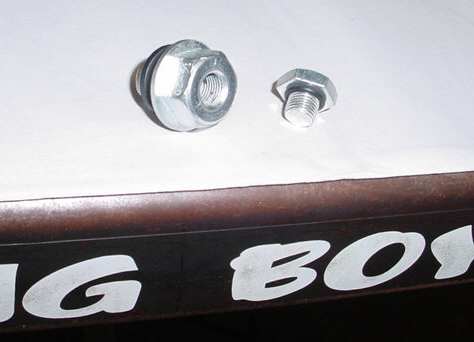 We removed the o-ring and found that a 10mm banjo brake washer with a rubber lining fit very well. Here you can see it and the stock o-ring.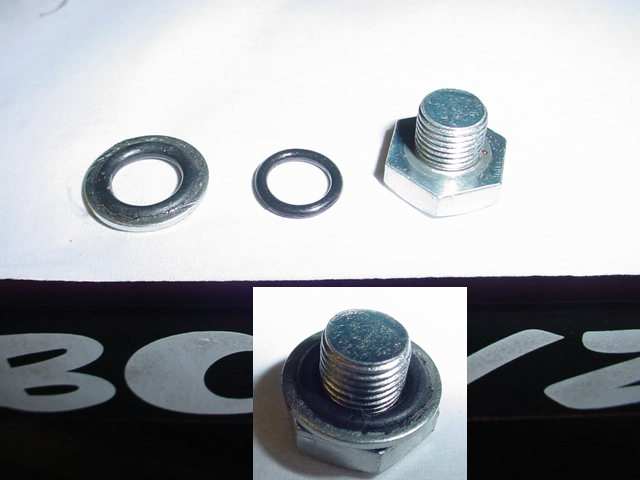 Left Side, we installed the o-ring and as soon as you tried to tighten the drain plug it just squished out. This certainly would have leaked and probably would have vibrated out. For the o-ring to work it would need a recessed step that would allow the o-ring to seal the drain plug but allow the head to seat firmly, holding the plug in place.
Right Side, you can see the Brake washer in place. It allows the drain plug head to seat tightly on the washer. The rubber lining then gets crushed between the 2 surfaces on the inside of the washer thus sealing it.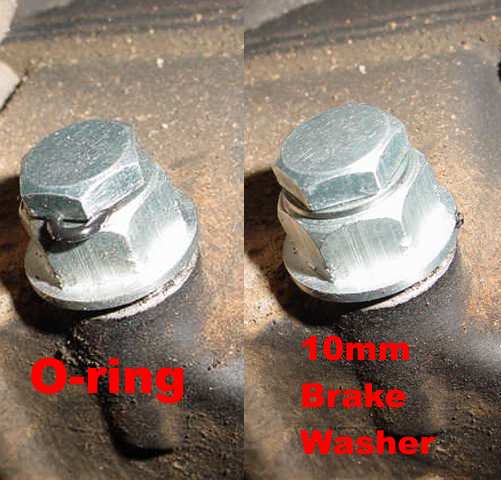 Additionally we used the solid tapered single oversized plug to start the rethreading of the oil pan. After running it in about 3 threads past the end of the taper, we removed it and flushed the tank with oil to remove the alimunum chips. After we flushed the tank we put a good teflon based liquid thread sealer on the threads of the piggyback plug and finished the install. This allowed the final plug to cut its own threads as it was installed and firmly seat itself.